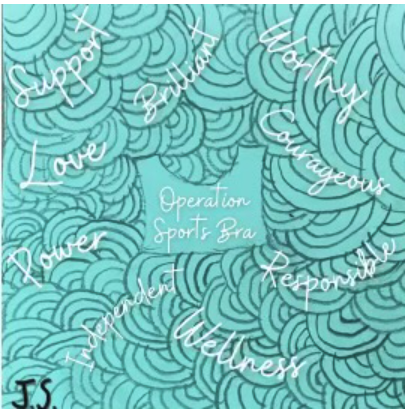 Wearing a well-fitting bra increases self-esteem and a bra is critical for health and overall dignity. The Be a Dear and Donate a Brassiere Group (BAD) of the San Jose Woman's Club (SJWC) has been collecting and distributing bras in the Bay Area since
2009. Over 35,000 have been donated so far by caring women and girls. We have distributed these bras to homeless shelters, clothing closets and direct to women and girls in need. (Logo Design: Janet Smith, High School Sophomore)
We are reaching out to organizations in the San Francisco Bay Area where girls can be found, including:
Sports and cheerleading teams
Groups that promote volunteerism
Middle schools, high schools, colleges, sororities
Church youth groups
Our goal is to collect 1000 plus NEW sports bras for nonprofits including The Bill Wilson Center, a nonprofit organization in Santa Clara, California, that supports homeless, runaway children and young adults, AAUW's Gifts for Teens, a once a year holiday program for youth in need in Santa Clara County, San Jose State University Spartan Pantry and the Larkin Street Youth Services Center in San Francisco. In addition to providing bras for girls and young women in need, working on this bra drive will help raise awareness about homelessness and poverty faced by many girls and young women.
Please consider collaborating with SJWC's Be a Dear and Donate a Brassiere group, Sports Basement and Santa Clara Supervisors to provide this much needed resource for girls and young women and help SUPPORT ALL girls.
Operation Sports Bra Timeline:
The bra drive "Operation Sports Bra, Youth Supporting Youth" will run throughout the months of August and September.
August 1 – Begin bra drive. Collect new bras that others have
purchased or encourage donors to purchase new bras using a Wish
List that will be set up for this NEW sports bra drive
Saturday, September 25, 10 am to 2 pm – There will be a Santa Clara County
Gratitude and Collection event at Campbell Sports Basement
Saturday, October 2, 10 am to 2 pm- There will be a San Francisco Gratitude and
Collection event at the new Stonestown Galleria Sport Basement
Final collections at a San Jose Woman's Club October community
event
End of October – BAD and volunteers to deliver bras to recipient
organizations
Guidelines for Groups:
Collect NEW sports bras only
–Any size and style sports bra
–XSmall, Small, Medium, Large, XLarge, XXLarge
Attend Gratitude and Collection event in your location
Final collection of bras at San Jose Woman's Club, 75 S. 11 th Street
at October San Jose Woman's Club Community in mid-October
What to expect from San Jose Woman's Club Be a Dear and Donate a
Brassiere:
Marketing template with logo, information about recipients and PR
release for media
Social media posts about your group and the bra drive
A San Jose Woman's Club member contact to help you throughout
the bra drive
Sponsored by:
Vice President of the Santa Clara County Board, Susan Ellenberg and SJWC member
Santa Clara County Commission on the Status of Women
Sports Basement Campbell and Sports Basement San Francisco Stonestown
San Francisco State University
Girl Scouts of Northern California
San Jose Woman's Club
For more information, contact Eileen Hunter
Phone: 650-862-1375 E mail: bad@sjwomansclub.org
Would you like to donate a New sports bra or 2?