Our mission is to give back to the community we live in.
We are women who get things done.
We are successful in our careers and we take those abilities and learnings and  apply them to the community.
We roll up our sleeves and work hard together whether it's organizing an event, speaking to our community, or cooking lunches for the under-served.
We make a difference.
We work collaboratively together to solve problems that impact our community.
We help mentor local girls  at computer camp to help better their future.
We  attend a book and cultural group to talk about what interests us.
Or, perhaps we just want to attend the big gala fundraisers.
Do you want to join us?
We don't put requirements on your schedule or time.
We know you have a busy schedule and time is a commodity.
You choose the activities and groups that make sense to you.
There are no minimum meeting requirements or financial obligations.
We will be here, and have been for over 120 years.
Music Study
► Sun, Nov. 3rd – 12:00 p.m.
► The Music Study Club sponsors two scholarships each year for SJSU music majors. Please join is for this year's scholarship auditions and encourage young music students! Auditions take place at the SJSU Music Building.
► View more info here.
Besse
► Tues, Nov. 5th – 7:00 p.m. – 8:30 p.m.
► The Chilbury ladies' choir: a novel / Jennifer Ryan
► For more information or to RSVP, contact us at besse@sjwomansclub.org
Since its founding in 1894, the San Jose Woman's Club has been dedicated to supporting the city's cultural, educational, civic and community initiatives through charitable works and financial gifts including:
Hosting the eBay Computer Camp for Girls at SJWC, in partnership with eBay's Women in Technology group. The one-week camp provides mentoring for 30 at-risk girls between the ages of 8 and 11 who attend nearby Horace Mann Elementary.
Support of women in transition by gathering and distributing women's undergarments, hosting an annual tea or make over day, and throwing the annual

OktoBRAfest

fundraiser.
Providing lunch and activities once per month for a local downtown shelter.
Making pocket bears distributed by the police and fire departments, Halloween treat bags and Christmas stockings for children in need.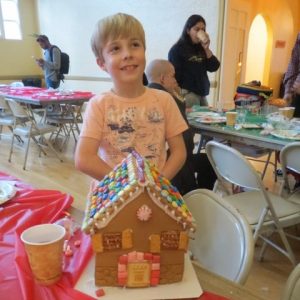 The San Jose Woman's Club, one of California's oldest women's organizations, was established in 1894 as part of a global social movement of women's clubs that combined self-improvement with voluntary community work, addressing needs that interested women, such as kindergartens, libraries, and parks.
Nine women gathered in downtown San Jose at Fannie Estabrook's studio to organize their efforts behind various community projects. Realizing that a group could achieve far more than one person alone, their motto became "One for All and All for One." Together they set off on what has become a notable history of accomplishment in cultural, civic, educational and charitable betterment.
San Jose Woman's Club joined the General Federation of Women's Clubs in 1897 and became a charter member of the newly formed California Federation in 1900.and formally incorporated in 1909.The group received a permanent charter as a non-profit organization from the state of California in 1959.
Club Achievements
San Jose Woman's Club members' early efforts helped "Save the Redwoods." The active support and participation by the club in the newly formed Sempervirens Club was critical to the preservation of the giant redwoods of the Santa Cruz Mountains, the creation of Big Basin State Park and the beginning of the California State Park system.
Members worked to help found San Jose Day Nursery in 1916. Joining with other women's clubs throughout California, mission bells that still stand today were erected along historic El Camino Real. California women's clubs also worked together to organize a statewide campaign to protect the redwoods in Humboldt County, purchasing a grove of ancient redwoods there.
In 1931, San Francisco architect Julia Morgan, who also designed Hearst Castle and Asilomar, designed a four sided hearth celebrating the principles of the women's club movement that was installed in the grove. In 1939-1940 the Club established a Junior Woman's Club for women between the ages of 21 and 39.
Historic Venue
Club members originally met in homes, then moved to various downtown locations. By 1902 there were 81 members and the Club needed a larger space. The first venue was purchased in 1906 and was located at 43 South 3rd Street in San Jose. In 1929 the San José Woman's Club built their current home at 75 South 11th Street. The building was designated as a Historical Landmark by the City of San Jose in 1986. Preserving the landmark Historic Venue was added to the Club's mission in the early 90s.
Junior Woman's Club
The Junior San Jose Woman's Club was founded in 1939-1940. Members were between the ages of 21 and 39. The Junior Woman's Club was an active subset of the San Jose Woman's Club with many members and activities. One of its original members, Betty Ann Chandler is still a member of the Club today.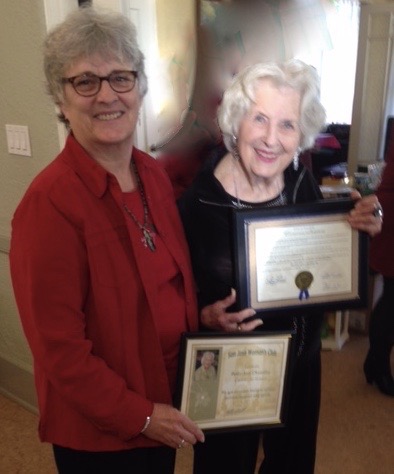 As specified in the Bylaws, the San Jose Woman's Club (SJWC) is governed by a Board consisting of 14 Directors. Eight of these Directors serve as Officers.
Lydia Patino – President. She has been a member of the SJWC since 2016. Lydia chairs the new Women in Leadership and Technology group, including the Words from Women of Wisdom series. She is currently an Engagement Director at Experis where she manages Managed Service Engagements onsite at Cisco. She has a BA degree in Music Performance from San Jose State University and an MBA from University of Phoenix. She also is a certified PMP Project Manager. She lives in the San Jose Rosegarden area where she owns a 97 year old home that takes lots of loving care. When she's not working on her home, she loves to travel, listen to live music, or help out at a friend's winery.
Lynda Sereno – First Vice President. She has been involved with the San Jose Woman's Club since 2009. She is the PR Chair and has served on the Board as the Director of Technology from 2010 to 2014. Lynda was first attracted to San Jose Woman's Club because of the beautiful building but quickly discovered a group of like-minded women and a history of women making a change in themselves and their community that has kept her wanting to see the Club grow and prosper. Lynda is retired from a career in software development focusing on technical writing and user interface design. She has previously served as President of Silicon Valley Webgrrls from 1997 to 2000, and Publicity Chair for Bay Area Computer Human Interface (BAYCHI) from 2002 to 2004. She and her husband live in downtown San Jose.
Lisa Buchanan – Recording Secretary. She has been a member of the SJWC since 2015 and has also served as a Director. Lisa is Co-Chair of the Best Furry Friends group and a member of the Women in Technology and Leadership group. She is an operations and technology leader with a broad array of business expertise in mergers and acquisitions, business and technical program and process management, software development, and talent management. Lisa also sat on her condo board association, and was on the City Lights Board of Directors for several years.
Ann Calnan – Corresponding Secretary. Ann joined the Club this year because of her interest in the newly formed Best Furry Friends group. She holds a Masters in Transportation Management and currently serves as Manager of Environmental Programs and Resources Management for the Valley Transportation Authority. She previously managed the Marine Mammal Center on the central coast and currently serves on the board of the Santa Clara Valley Habitat Agency. In her spare time, she also volunteers at the Humane Society Silicon Valley.
Janis Gemignani – Treasurer. She joined SJWC in 2006, serving on the board beginning in 2007 in many roles, including Treasurer and President, and she is a member of the Be a Dear group. Janis is a financial professional with wide experience in corporate governance and building shareholder value. She is on the Board of her homeowners' association and is a founding member of the Women's Gathering Place.
Sandy Swirsky – Assistant Treasurer. She is currently the Assistant Treasurer and has been a member since June 2011 when she retired from being a high school librarian. Sandy has previously served as a Director and Chairs the Antiques and Needle Arts groups. She is also a member of the Besse, Be a Dear, and Women Who Do Lunch groups. When away from the Club, she is an active square dancer, musical instrument collector, quilter and needle pointer.
Andrea McAuley – House Manager. She joined SJWC earlier this year and is a member of the Antique and Mah Jong groups. After more than 30 years in Sales and Marketing Management with an international manufacturer of Medical Electronic devices, focusing on problem solving and creating solutions for clients, Andrea now works part time at SJPL Rose Garden Branch, practices Ashtanga and Power Vinyasa yoga, and enjoys refinishing furniture, reading, learning to play Mah Jong, and taking weekly walks throughout San Jose to see the changes taking place and try out new restaurants. She was born in Porterville, CA and has lived in San Jose, since 1975 when she attended SJSU. She has traveled all over the United States and internationally, but her favorite place to visit in California is Yosemite national park where she always takes time to visit Mariposa Sequoia grove. Andrea fell in love with the SJWC Clubhouse when she visited for a fundraiser and is looking forward to focusing on house-related issues. She is familiar with volunteer organizations: while her two children were in school, she worked on in the School Site Council and for their sports teams.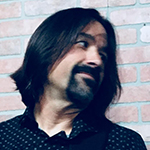 John Blair – Membership. He has been a member since 2019 and is an active participant in the Best Furry Friends group. John has a long career in software development and has been managing software programs at Cisco in cloud technologies since 2010. He has a passion for rescued dogs & cats and has volunteered at Best Friends Animal Society, Second Harvest, and Sacred Heart Community Center. He is an avid runner, donates blood regularly and is a beginning musician learning to play bass guitar.
Laura Wolford – Public Relations. She is a new Club member, but has enjoyed many club events over the years, including LUNAFEST and the Gingerbread House Decoration Party. Laura is a member of the Be a Dear group and is working with fellow Club members to start a new Voices in Action group. Her professional experience lies in the non-profit sector, working with small and large organizations as well as public and private schools in the area of Development. Her focus has been on capital and annual campaigns, event planning and volunteer coordination. She is currently serving on the board of Friends of Levitt Pavillion San Jose Foundation which is working towards revitalizing historic St. James Park and will bring 50 free family friendly concerts to the park annually. Laura is a Naglee Park resident and has lived downtown since attending SJSU as a college freshman.
Patricia Puentes – Downtown Outreach and Partnership. She is new to the Club this year and is looking forward to meeting new friends and helping the organization grow. Patricia is Director, Senior HR Business Partner at PayPal. She is a long time SJ resident, Notre Dame Graduate, and OSU Alum. and has served on numerous local boards including Notre Dame High School, was past President of the Western International Human Resource Association, and PMAA (Personal Managers Association Aztlan.) Patricia holds a Masters in International Business and BS in Biology.She has an avid interest in international affairs, and is a champion for Education. As an avid lover of global travel, Patricia worked abroad in Japan and has worked/travelled to 43 countries. Her experience with building business relationships while having fun will help SJWC grow to the next level.
Edwin Aoki – Technology and Infrastructure. He joined the Club earlier this year. Edwin is a Vice President and Technology Fellow at PayPal, where he acts as the company's Chief Architect. He leads the Strategic Architecture Team, tasked with defining the company's long term technical road map and enabling the technologies that will allow the company to change the future of money. In this role, he also oversees accessibility and Global Technology Education. Prior to joining PayPal in 2010, Edwin spent 13½ years at Netscape and AOL as Technology Fellow and Chief Architect, overseeing architecture and technology strategy for many of AOL's consumer facing products, including instant messaging, mail, mobile, enterprise and developer programs. Edwin's earlier roles include positions with Intuit, GO Corporation, and Apple Computer. Edwin is a published author and enjoys the Bay Area's abundance of good food, great wine, and opportunities to enjoy the natural world. When he's not at work, Edwin is involved with wildlife conservation and likes to spend time with big cats.
Founders and Past Presidents
The initial meeting of the San Jose Woman's Club was held on December 3, 1894 and Miss Frances (Fannie) Estabrook was elected chairman for the meeting. Nine members were elected to form a Board of Directors and the first officers were chosen from that Board. The first elected president of the San Jose Woman's Club was Mrs. S. E. McNeil who took office the following month, January 1895.
1894 Miss Frances M. Estabrook first chairman
1895 Mrs. S. E. McNeil first president
1898–1900 Mrs. Louise C. Jones
1900–1902 Mrs. E. O. Smith
1902–1904 Mrs. W. C. Kennedy
1904–1906 Mrs. Alex P. Murgotten
1906–1908 Mrs. W. B. Hill
1908–1909 Mrs.Viola Price Franklin
1909–1911 Mrs. A. A. Fowler
1911–1912 Mrs. J. V. Haley
1912–1913 Mrs. C. E. Randall
1913–1914 Mrs. O. P. Shrout
1914–1915 Mrs. J. E. Hancock
1915–1916 Mrs. Gyp Schumaker-Swain
1916–1917 Mrs. Paul Clark
1917–1918 Mrs. Elizabeth Grey
1918 Mrs. Sheldon Wills
1918–1919 Mrs. A. D. Grant
1919–1920 Mrs. F. H. Eastey
1920–1921 Mrs. Eva Stahl
1921–1922 Mrs.John G. Jury
1922–1923 Miss Jessie Williamson
1923–1924 Mrs. J.W. Nixon
1924–1925 Mrs.Carol Kapp Vorsanger
1925–1927 Mrs. Gertrude S. Hurff
1927–1929 Mrs. A. D. Grant
1929–1930 Miss May B. Barker
1930–1931 Mrs. George H. Ballantyne
1931–1932 Mrs. Fred Doerr
1932–1934 Mrs. Arthur H. Gossling
1934–1936 Mrs. H. Spencer Lewis
1936–1939 Mrs. George L. Sullivan
1939–1941 Mrs. Etta Waddington Smith
1941–1942 Mrs. W. F. Curry
1942–1943 Mrs. George Hampsch
1943–1944 Mrs. J. E.Witherspoon
1944–1945 Mrs. Herbert F. Fisher
1945–1946 Mrs. Charles J. Archambeault
1946–1947 Mrs. Arthur C. Heisen
1947–1949 Mrs. Ernest P. Hockenbeamer
1949–1950 Mrs. Charles Hillis
1950–1951 Mrs. Roland F. Everhart
1951–1953 Mrs. Bert Gale
1953–1955 Mrs. Virgil E.Curtis
1955–1956 Mrs. Ray Souden
1956–1957 Mrs. John D. Robertson
1957–1958 Mrs. Chase Stevens
1958–1959 Mrs. Byron Moore
1959–1960 Mrs. John B. Prolo
1961–1962 Mrs. Peter Mancuso
1962–1963 Mrs. John Cangiamila
1963–1965 Mrs. J.J.Jenkinson
1965–1966 Mrs. Edward O. Johnson
1966–1967 Mrs. Edward B.Campbell
1967–1968 Mrs. Edward R.Terra
1968–1970 Mrs.John P. Benevento
1970–1972 Mrs.C. S. Nebecker
1972–1974 Mrs.Henri Lecat
1974–1976 Mrs. Edward V. Rawlinson
1976–1978 Mrs. Sylvan Rosenzweig
1978–1980 Mrs. Fritz Hargesheimer
1980–1982 Mrs. Peter Hansen
1982–1984 Mrs. Jack McCann
1984–1986 Mrs. Joseph Owens
1986–1987 Mrs. Richard Wheaton
1987–1989 Mrs. Earl Dailey
1989–1991 Mrs. Peter Hansen
1991–1992 Evelyn Ucovich
1992–1993 Mildred Moyer
1993–1996 Jeanne McCann
1996–1999 Mary Elizabeth Nichols
1999– 2001 Alma Taylor
2001–2002 Diana Wirt
2002–2004 Penny Donovan
2004–2006 Rosalie Eisen
2006–2008 Sally Beste
2008–2009 Sally Beste, protem
2009–2011 April Halberstadt
2011–2013 Patricia Curia
2013–2015 Janis Gemignani
2015–2016 Betty Sleeth
2016–2018 Lisa Buchanan
2018–Present Lydia Patino
Click here to download your copy of the San Jose Woman's Club Bylaws. If you are unable to view or download the bylaws, contact the San Jose Woman's Club Recording Secretary at secretary@sjwomansclub.org or swing by the Club office to get a copy of the Bylaws.
Membership is only $90 per year ($60 seniors and students) and is open to all.
Groups meet on a regular schedule and provide information and friendship for members with shared interests.