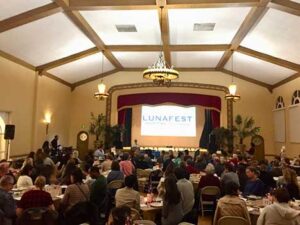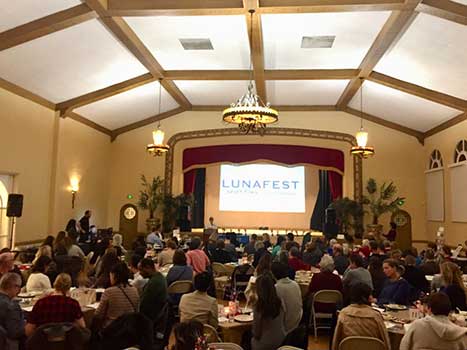 Enjoy a festive evening of film, food, and fun while supporting Breast Cancer Prevention Partners and local charities. If you can't attend in person, Watch at Home tickets give you access to the films for 24 hours.
Friday, May 12, 6-9pm
San Jose Woman's Club, 75 S. 11th Street
6:00 p.m. Doors Open. Enjoy a drink and meet up with old and new friends and shop our boutique featuring companies that care deeply about your health and wellness
6:30 p.m. Dinner
7:15 p.m. Cancer Prevention Tips and Healthy Food Choices
730 p.m. Popcorn and Film Screening
LUNAFEST®, the fundraising film festival dedicated to amplifying stories by women and gender nonconforming filmmakers, and bringing people together in their communities, will be hosted by the San Jose Woman's Club at their landmark Clubhouse in downtown San Jose on Friday, May 12, 2023 at 6:00pm. An online viewing option is available for those who cannot attend in person.
The screening this year is poignant for two reasons: it's the first live screening at the Clubhouse since the pandemic and possibly the last opportunity to enjoy a LUNAFEST anywhere. LUNA®, who created and funded the festival in 2001, has announced this year's season is being cut short, ending on May 31, 2023, and the 2024 season is on pause as the brand looks to the future and reflects on how it might best support advocating for women going forward.
LUNAFEST has been hosted by the San Jose Woman's Club since 2011 and was first hosted in San Jose by Clubmember and Cancer Prevention Activist Lani Luthard in 2009. Since 2001 LUNAFEST has raised more than $7 million for nonprofit organizations, featured 175 women filmmakers, and hosted over 2,900 screenings in the US. and Canada.
LUNAFEST San Jose 2023 honors the work of Lani Luthard and Breast Cancer Prevention Partners to eliminate non-genetic risk factors linked to 90% of breast cancer, in order to save lives and prevent the disease before it starts. All proceeds from the event benefit Breast Cancer Prevention Partners, Chicken and Egg Pictures (a local nonprofit supporting women film makers) and the SJWC Charitable Giving Program, which funds local charities such as San Jose Day Nursery and Next Door Solutions.
The evening starts with a boutique of local businesses that care deeply about health, curated by Amy Kearnan, founder of Authentic Skin Remedies, an organic, plant based skincare line. Before the show, guests will enjoy a plant-based four-course meal featuring lasagna. During dinner, Breast Cancer Prevention Partners will speak about the simple changes you can make to prevent cancer.
Fabulous Auction Items
As in past years, luxury "Living Room" seating with table service will be auctioned to the highest bidder for the first and second halves of the show. More than $10K in unique experiences will also be auctioned. Bid on stays at Stanford Inn by the Sea in Mendocino, Sanctuary on Lytton in Healdsburg, private group tours of animal sanctuaries Charlie's Acres and Rancho Compassion, tickets to Miyoko Schinner's Film and Food Festival, tours by Edible Excursions, bay cruise on the USS Potomac, and Mobile IV hydration and vitamin therapy by Drenched. Local favorites being auctioned include a private group tour and catered luncheon at the San Jose Fire Museum, private group walking tour by Preservation Action Council, lunch with Santa Clara County Supervisor Cindy Chavez, and tickets to City Lights Theater, Dancing Cat, Happy Hollow, San Jose Improv, San Jose Museum of Art, San Jose Stage, San Jose Playhouse, and Silicon Valley Pet Project-Pup Plaza Paint Your Pet Class.
Big shout out to our  sponsors!
Producer Level
André Luthard and family
Patricia Puentes
San Jose Woman's Club LUNAFEST Planning Committee
Silicon Valley Mobile, LLC
Star Level
Lynne Brown
Mike and Cindy Chavez and Mike Potter
Naglee Park Campus Community Association
Movie Buff Level
Food and Beverage Donors
Parking Sponsor