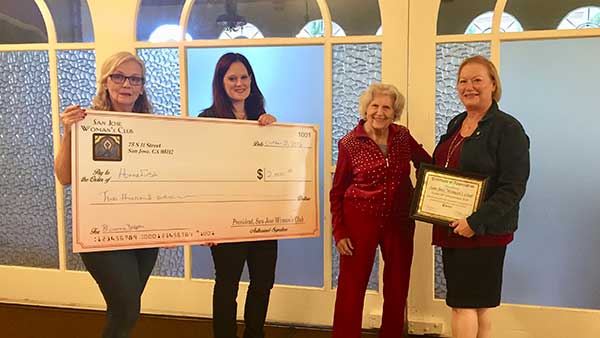 Charitable Giving Requests
A portion of SJWC's annual budget is allocated to charitable giving. Charitable giving requests are evaluated by the Charitable Giving Committee and approved by the SJWC Board of Directors. The deadline for submitting requests for the 2019-2020 fiscal year is November 1, 2019. Anyone can submit a charitable giving request for an organization. Charitable Giving grants are announced in December.
2018-2019 Charitable Giving Donations
During the 2018-2019 fiscal year. San Jose Woman's Club supported the following organizations with cash donations
Veggielution
San Jose Chamber Orchestra
Next Door Solutions to Domestic Violence
ISPF-AAUW of SCCo., Gifts for Teens
Sunday Friends Foundation
Olinder Elementary School
13th St Cat rescue
Pet Awareness Welfare Society for San Jose Animal Care and Services (PAWS for SJACS)
Opera San Jose
San Jose Day Nursery
Hope Services
Breast Cancer Prevention Partners
onRoute22
Sempervirens Fund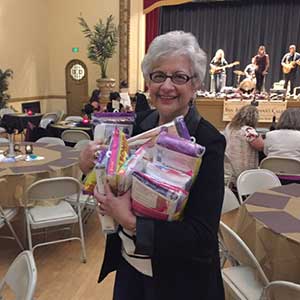 Low-Cost or No-Cost Venue Rental
As part of its mission to support the community, San Jose Woman's Club provides in-kind donation of low-cost or no-cost rental of the SJWC Clubhouse to local community and arts groups for fund-raising events, performances and meetings.
In 2016-2017, the San Jose Woman's Club has provided in-kind donation of low-cost or no-cost rental of the SJWC Clubhouse to the following community and arts groups:
Akbayan SJSU
Azerbaijan Cultural Society
Bay Area Country Dance Society
Boys and Girls Clubs
Bud Ayers Dance and Talent Extravaganza
California Questers
International Gateways SJSU
Kutchvalley
Legacy of Bhangra Dance
Multicultural Center at Santa Clara University
National Charities League—Willow Rose Chapter
Pacific Coast Farmers' Market Association
Preservation Action Council * San Jose
San Jose International Piano Music Competition
San Jose State University
Timmy Awards
Village School