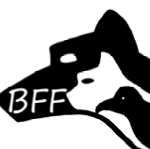 San Jose Woman's Club Best Furry Friends Group is hosting a new online event to recognize creative writers, inspire joy and support local animal charities: the PAWspectives Writing Contest. We are seeking sponsors to fund the prize pool ($500 in cash and additional awards), cover hard costs, and raise funds for our supported animal charities: 13th Street Cat Rescue and Silicon Valley Pet Project(charities).  All donations are fully tax-deductible.
SJWC PAWspectives is being promoted locally through social media, email and the websites for SJWC and both charities, in addition to reaching out for media coverage and posting locally in writers' groups, pet groups, and neighborhood groups. The contest is also posted on national writing group sites.
If you have questions about sponsoring, email bff@sjwomansclub.org.
Two Ways to Sponsor
Pay and Register Online: Use the Pay Now button below to select and pay the sponsor fee.  After completing payment, click Return to Merchant to complete the sponsor form online. You can also click here to complete the sponsor form.
Print and Return: Print the sponsor form and return by mail. You can choose to be invoiced or include a check payment.
Sponsor Levels
Giving A Paw Up $25
Name on SJWC PAWspectives page (page will be live at least three months: 15, 2020- Jan. 15, 2021)
Listing on PAWspectives Entry Form (online submission form)
Listing on all emails sent regarding PAWspectives by SJWC
Listing on social media at least three times as a PAWspectives sponsor
Happy Tails $50
All benefits of Giving a Paw Up plus
Able to add a dedication, such as in honor of, or in memory of
PAWSitive Pals $100
All benefits of Happy Tails plus
Name/Company Name on SJWC website as a BFF supporter for one year, including web link, if applicable
Link to your website on the PAWspectives event page, if applicable
Recognition as a sponsor at all online events associated with PAWspectives
BFF New Beginnings $250
All benefits of PAWsitive Pals plus
Logo and phone number included in BFF supporter listing on SJWC website, if applicable
Logo and phone number included on the PAWspectives event page, if applicable