We have much to be thankful for at the San Jose Woman's Club. Our focus on our three-fold mission of charitable giving, friendship, and preserving our Historic Venue continues through the hard work of staff and volunteers and through generous donations to the Club.
This past fiscal year, we have donated more than $25,000 to organizations that support our mission, including Opera San Jose, Breast Cancer Fund, Sempervirens Fund, San Jose Day Nursery and Next Door Solutions.
We supported women in our community through our LUNAFestival for cancer, the Bloomie Dropper Party fundraiser for women in need, and Be a Dear and Donate a Brassiere  provided first Make Over Day, which allowed over 30 women in transition to feel fabulous.
We continue to preserve and protect our landmark Historic Venue. We look forward to the new year when we pay off our loan for the significant electrical upgrade we completed in 2014 and plan for air conditioning.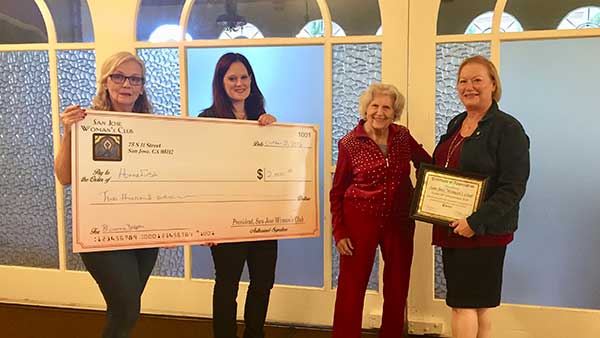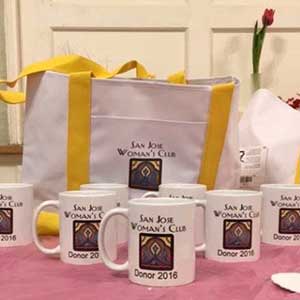 We couldn't do any of this without your generous donations. Your contribution to the San Jose Woman's Club goes straight to work on our mission.
Attitude of Gratitude Program: You will receive special thank you gifts and your name and generosity will be listed in the Member Book for donations of $100* or more. 
$100 or more: SJWC Donor Mug
$250 or more: SJWC Donor Tote
$1,000 or more: SJWC Donor Crystal bookend, tote bag, and mug
Memorial or tribute gift - Remember a loved one, donate to honor someone for a birthday, or find a unique gift for that Club member in your life. A special card will be sent to the recipient or recipient's family plus your name and generosity will be listed in next year's Member Book.
Shop at Amazon? Help raise money for the SJWC club!
Donor Sweetheart Party
In February 2016, San Jose Woman's Club inaugurated the Donor Sweetheart Party to thank the generous donors who support the Club throughout the year. Gifts from the President's Year End Campaign were awarded at the event and attendees enjoyed a delightful dessert buffet.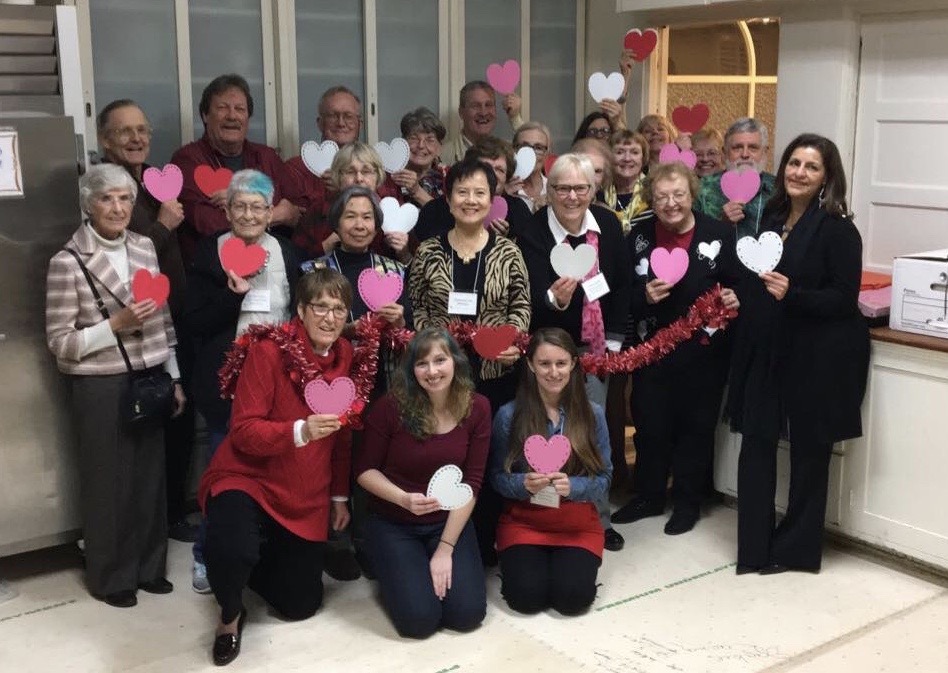 Special Thanks to Those Who Have Supported Us in FY 2018-19
Crystal Donors ($1K and more)
Deborah Norberg

Fidelity Charitable

Jeanne McCann

Joan Bohnett

Patt Curia

Patti Phillips
Sandy Swirsky & Lyle Merithew
Thrivent
Silver Donors ($250 and more)
Alice Gosak Gary

Ann Calnan

April Halberstadt
Georgia Johnston

Georgiana Flaherty

Kathryn Young

Laura Wolford
Lisa Buchanan

Rose Crimi-Muench
Valley Heritage Questers
Bronze Donors ($100 and more)
Anne Andrews
Athene Mantle

Betty Ann Chandler
Deanne La Torre

Dorothy Cooney
Jacqueline Pighini
Janis Gemignani
Johanna Nicolet
Judith Borlase
Linda Faulkner
Lorrie Gervin
Lucille Boone
Sheila McGann-Tiedt
In-Kind Donations
Andrea McAuley
Debra Miele
Deena Elfar
Greg Winslow
Kathryn Young
Matti Katajamaki
PACSJ: Preservation Action Council of San Jose Patricia Puentes